Stay on top of the game with the industry leading HP A3 MFP
Enjoy an unparalleled printing performance on HP's class-leading A3 MFPs. Whether you are printing, copying or scanning business documents, you can maximise uptime and produce high-quality prints with these multifunctional workhorses.
---
Upgrade to an industry leading HP A3 MFP!
Own an HP Color LaserJet Managed MFP E77422dn at only RM149/month!* Print professional quality A4 documents up to 23 ppm and enjoy the convenience of automatic two-sided printing and copying at lower operational cost.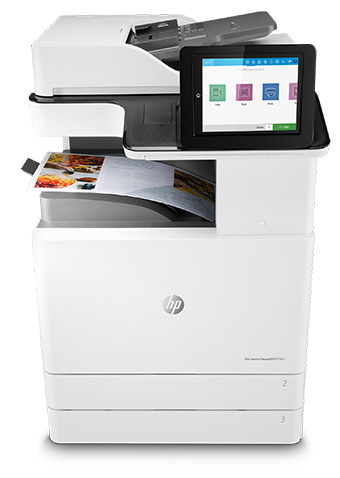 HP Color LaserJet Managed MFP E77422dn
RM149/month*
Improve your workflow with a streamlined colour MFP which boasts a robust performance and the world's most secure printing1.

---
Own HP PageWide Managed Color MFP P77940dn at only RM199/month!*
Print up to 50% faster than competitors (as fast as 60 ppm) in colour and black-and-white2.

HP PageWide Managed Color
MFP P77940dn
RM199/month*
Minimise interruptions with an HP PageWide MFP designed for less maintenance.3

It's time to take your business to the next level!
---
I am interested!
Please contact me about HP's A3 Multifunction Printers
---
1. HP's most advanced embedded security features are available on HP Enterprise-class devices with FutureSmart firmware 4.5 or above and is based on HP review of 2018 published embedded security features of competitive in-class printers. Only HP offers a combination of security features for integrity checking down to the BIOS with self-healing capabilities. For a list of compatible products, visit: hp.com/go/PrintersThatProtect. For more information, visit: hp.com/go/printersecurityclaims.
2. Comparison of HP PageWide A3 devices with leading in-class colour ink/laser MFPs ($3,000-$11,299 and €2,820-€11,199), and colour ink/laser single function printers ($1,500-$4,799 and €1,410-€4,599) as of February 2018; market share as reported by IDC as of Q3 2017, excluding other HP PageWide products. HP PageWide speeds based on General Office mode and exclude first page. Learn more at HP.com/go/printerspeeds.
3. Fewer service parts claim based on HP analysis of leading in-class A3 color laser printers and MFPs as of February 2018; calculations use publicly available and/or published manufacturer rated yields for long-life consumables and assume 600,000 pages printed (using a 60% black/40% color ratio). Learn more at http://hp.com/go/pagewideclaims.

*Terms and conditions
1. The 60-month instalment offer is only eligible to the following HP products ("HP A3 MFP") at the specified repayment amount:
a. HP Color Laser Jet Managed MFP E77422dn at RM149/month for 60 months b. HP PageWide Managed Color MFP P77940dn at RM199/month for 60 months 2. The offer is valid for the purchase of the stated HP A3 MFP from now till 30 April 2021 ("Programme Period").
3. Offers are not redeemable or refundable by cash.
4. HP decision on all matters pertaining to this Programme is final and binding and no correspondence and appeal will be entered into, except as otherwise stated in these terms and conditions. To the extent permitted by law, HP reserves the right to change, amend or terminate the Programme at any stage during the Programme Period. HP has the absolute discretion to grant any waivers and indulgences on terms and conditions of this Programme.
5. HP will accept no responsibility for late, lost or misdirected mail. Further, HP shall not be liable for any loss or damage whatsoever incurred (including, without limitation, indirect, consequential or economic loss), or for any personal injury sustained as a result of participating in this Programme, except for liabilities not excluded by law. Further, to the fullest extent permitted by law, HP excludes liability for any problems or technical malfunction of any telephone network or lines, computer online systems, servers, or providers, computer equipment, software, technical problems or traffic congestion on the Internet or any website, or any unauthorized intervention, or any combination thereof, including any non-delivery or corruption of entries to HP, injury or damage to Participants' or any other person's computer related to or resulting from participation in or downloading any materials in this Programme. The use of any automated entry software or any other mechanical or electronic means that allows a Participant to automatically enter repeatedly is prohibited and will render all entries submitted by that Participant invalid.
6. HP will use the information contained in the Programme registration form to contact the Participant if there are any queries. Any misrepresentation of any fact or particulars (deemed material by HP) shall result in disqualification.
7. HP PPS Sales Sdn. Bhd. reserves the right to amend the terms and conditions without prior notice at any time.
8. These terms and conditions shall be governed by and construed in accordance with the laws in force in Malaysia. Participants agree to submit to the non-exclusive jurisdiction of the courts of Malaysia for all matters arising from or in relation to this Contest.