Inspiring Singapore's businesses with the latest trends and insights

Change in a fast-forward world

In a short span of a few months, we have seen the pandemic act as an unprecedented catalyst of change, forcing SMBs everywhere to race against time and be quick on adapting to change at a dizzying pace. That is why we felt it was necessary to also take a pause, reflect and understand how change is happening across most critical business functions of Workforce, HR and Finance.

With this in mind, we gathered some of industry's most senior experts and solution partners on 27 August 2020 for a webinar session on "Change in a Fast-forward World" – organized by HP.

For Vivian Chua, Managing Director, HP Inc. Singapore, the circuit breaker has been a period of accelerated change. "Fast-forward three months, the world looks slightly different yet again. Through different phases in the pandemic, we also see changes that take place faster than ever before. From businesses figuring out how to survive, we also see a lot of bright spots in how SMBs use technology."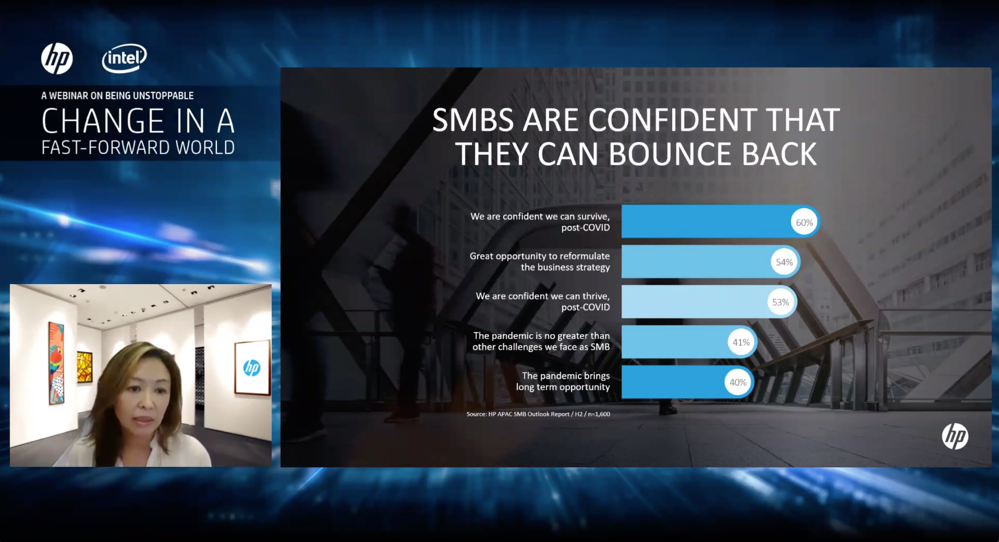 According to a new "Survival to Revival" SMB Study conducted by HP, where they talked to over 1,600 C-Suites and owners of SMBs from specific verticals to gain deeper insights into their mindset during this time, a majority of SMBs believe they can overcome the current challenges and thrive.

They "saw this crisis as an opportunity to jumpstart and reformulate their businesses and bounce back quickly through the adoption of innovation."
Mobilizing our teams

In the era of hybrid-remote work, we need to first understand the new disruptions employees are facing and address their diverse needs.

Bernard Tan, Channel Sales Director, HP Inc. Singapore, shared: "This pandemic presented more than just a shift in our work environments. What it also did was challenge our ability to maintain a balance in our work and personal lives, and this meant different needs for different employees."

Looking at the productivity scorecard, he added: "While we are chasing productivity at every turn, it is apparent the tools most of us have at our disposal are not meeting our needs in the new normal." In a new era of mobility, companies need to "relook at their IT strategy in order to ensure their users are provided with tools to work productively in the office one day, and away from it the next."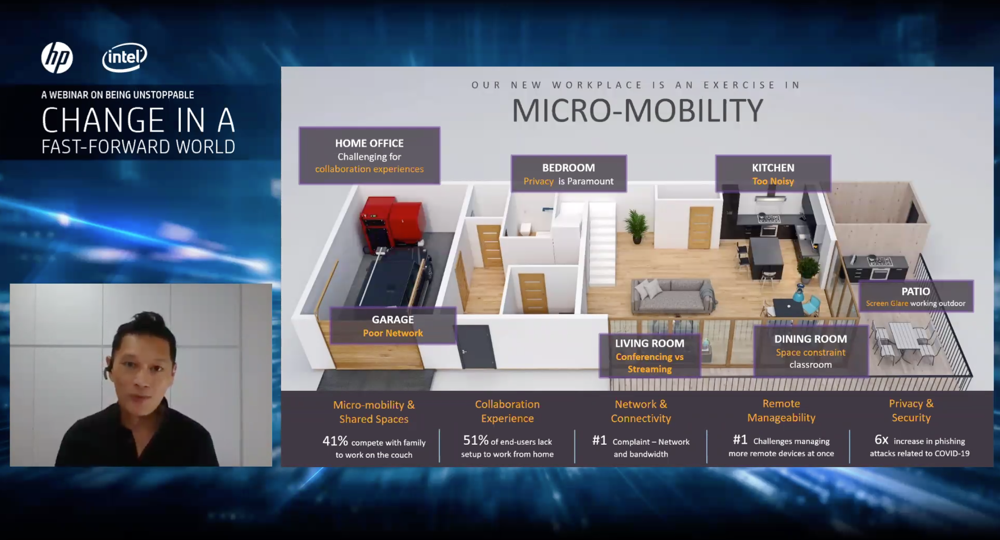 Pratik Chanda, Commercial Sales Lead, SEA, Korea and India, Microsoft, added on the exponential growth of collaboration during this period: "We recorded for the first time, 5 billion meeting minutes in a single day on Microsoft Teams. That is just mind-boggling, and goes to show how we have evolved from a workforce that was always in-person to a virtual environment."

To thrive in our new, always-connected norm, he highlighted the need for smarter collaboration features such as real-time transcription for instant meeting minutes and a content camera that can blur out a person writing notes during a whiteboard session.

Security is another priority SMBs need to shift their focus to as threat actors sees the pandemic as an opportunity to create chaos.

Rajendra Bedi, Technical Solution Specialist Enterprise Clients, Intel said businesses need to choose devices with robust security technologies, "whether it's software-based or hardware-based, to make sure that devices in the environment are secure for the user, so they don't get exposed to the increased cyber threats."
Protecting your people

We also explored how SMBs can adopt best practices for workplace and workforce engagement as our work environments change. Looking through the lens of human resources, Sharon Lee, Co-Founder and Chief Operating Officer, HReasily, shared her perspective on how businesses need to rethink and recalibrate how to enable employees with the best tools.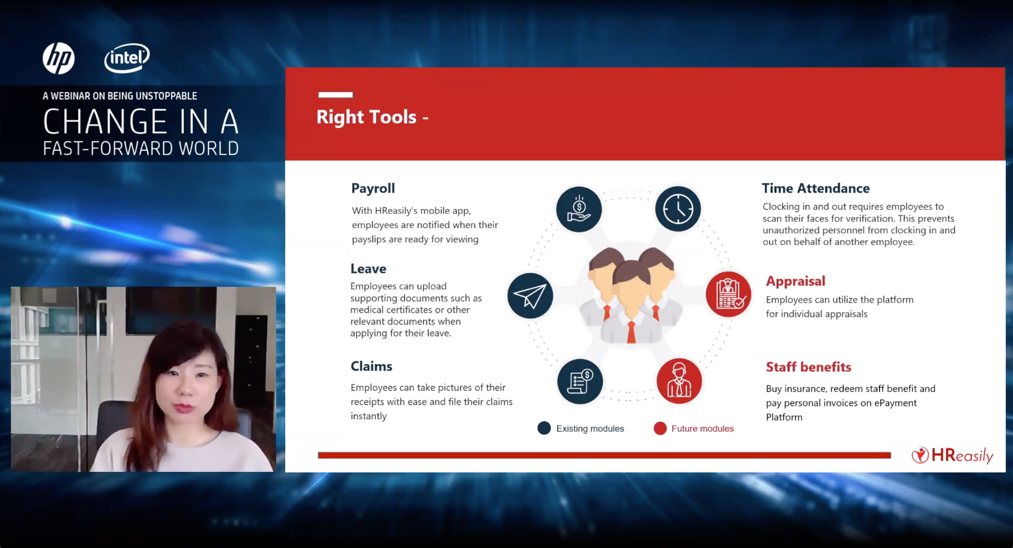 Comparing to the old days when businesses paid a license fee for an on-premise solution, the HR experience today needs to be a mobile and cloud-based one. "Moving into cloud, that gives us the ability – especially for the SMBs around us – to create that affordability because today we're moving from a subscription-based model where we're very much paying on a monthly basis to only the modules that you're using."

She also pointed out the importance of promoting mental wellness in the workplace by keeping communication channels between employers and employees always open or conducting wellness workshops. "Studies have clearly shown that in terms of mental wellness, when a company takes care of their employees and their wellness, this would directly lead to employee engagement as well as productivity."
Staying financially healthy

In the current economic climate, another top-of-mind question for SMBs is what can they do to keep the business going and how can they rethink their costs and investments now and in the future.

Ivan Chang, Co-Opted Councillor, SGTech, advised SMBs to first examine where they fall on a K-shaped recovery pattern (the latest recovery alphabet) as it affects how their businesses will be able to resume and how much of a runway they will require to sustain.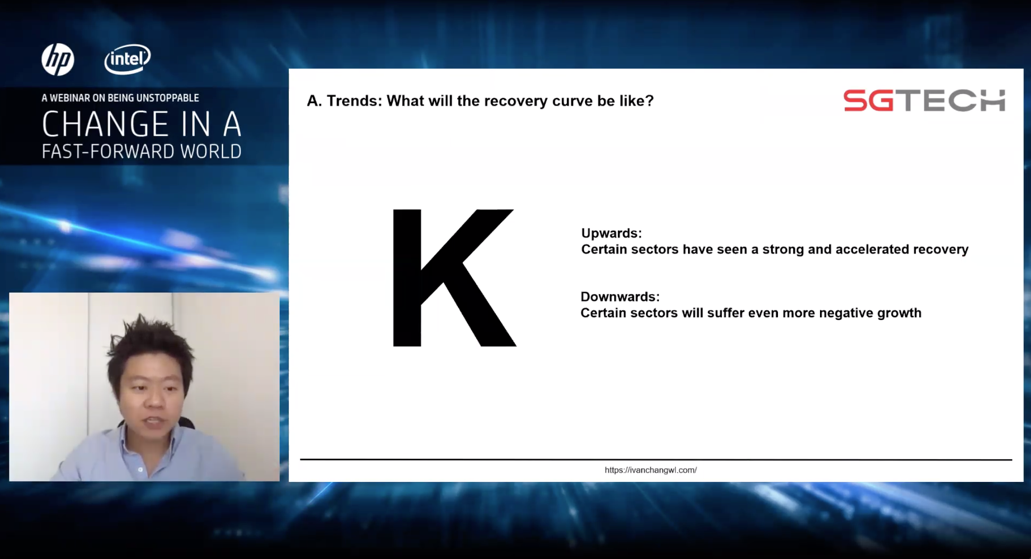 "For certain sectors like the IT sector, we're experiencing a strong and accelerated recovery because of the move to digital. There is also the downwards sector, where companies are facing negative growth, quarter on quarter, month on month, week on week. You have to know which sector you are in."

And while banks are stepping up to support SMBs through additional cashflow measures such as the Working Capital Loan Temporary Bridging Loan and more, he cautioned against taking a loan before doing a detailed forecast. "Even in the era of low interest rates, you're still paying interest from the future of your business. Take a loan because it's helping you to survive through the pandemic and emerge stronger."

Julian Wong, Xero Small Business Evangelist, echoed the same need for businesses to have their financial data on their fingertips. "At the end of the day, accessibility is key. You need real-time data; you want to be able to access it anytime, anywhere."
Going from survival to revival

Watch the full webinar below and discover how you can future-proof your business through digitalization. Don't miss out on the special fireside chat at the end where our panel of speakers tackle big questions on how business leaders can step up for change, why now is not the time for a 12-month break, and how we can keep our employees safe and sane.


Brought to you by HP and Intel®
Ultrabook, Celeron, Celeron Inside, Core Inside, Intel, Intel Logo, Intel Atom, Intel Atom Inside, Intel Core, Intel Inside, Intel Inside Logo, Intel vPro, Intel Evo, Itanium, Itanium Inside, Pentium, Pentium Inside, vPro Inside, Xeon, Xeon Phi, Xeon Inside, Intel Agilex, Arria, Cyclone, Movidius, eASIC, Enpirion, Iris, MAX, Intel RealSense, Stratix, and Intel Optane are trademarks of Intel Corporation or its subsidiaries.