Inspiring Singapore's businesses with the latest trends and insights

Hardwiring your workforce to be highly productive
How to make teamwork work for you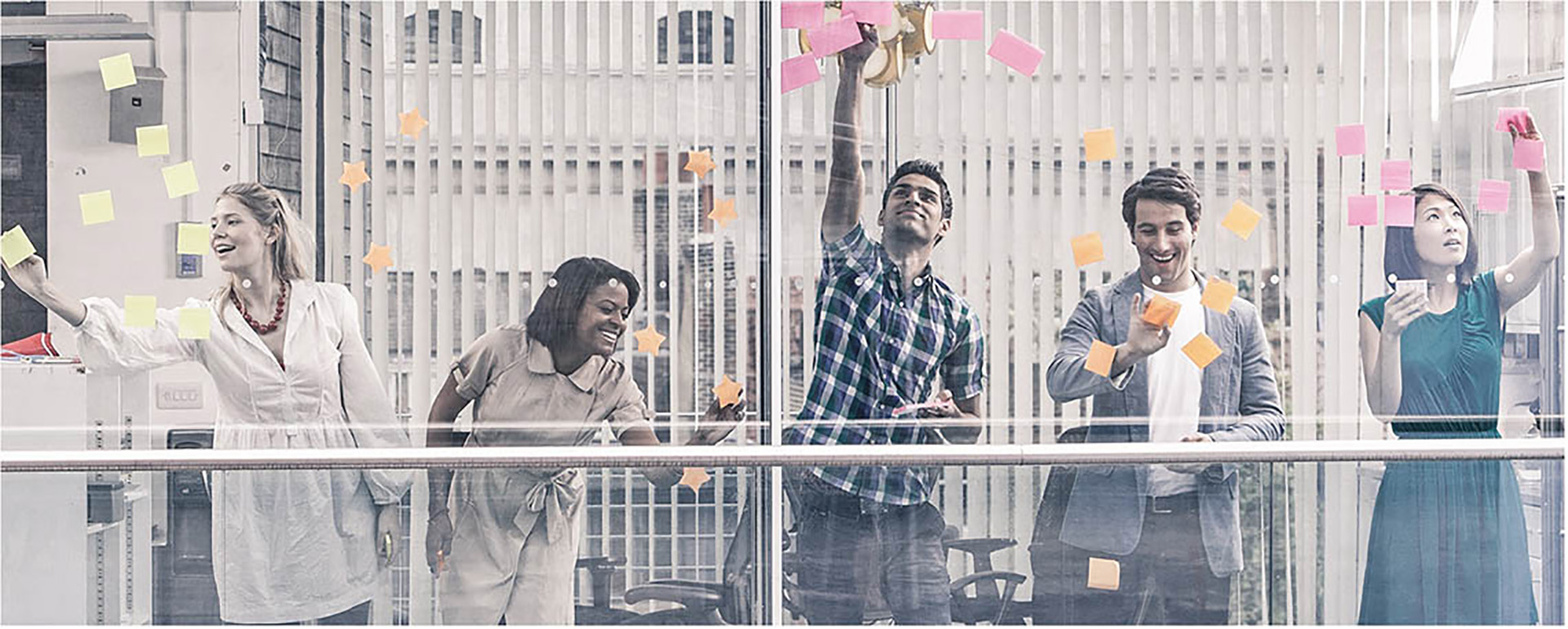 It's the new age of remote work, where a large bulk of office goers are adjusting to their new home-based work environment. Collaboration and communication tools are invaluable to business continuity today. Whether chatting on the phone, screensharing, working face-to-face over webcam or just keeping people in the loop on email and newer chat apps, teams are constantly using different tools to communicate and work together.

In times of having to stay productive while working in isolation, the need for better collaboration and support is critical. Furthermore, work-from-home arrangements are likely to continue for the "foreseeable future", according to Minister for Trade and Industry Chan Chun Sing, who added that circuit breaker measure will be lifted progressively, starting with sectors involved in international trade and access to critical supplies.1

The act of collaboration can have a huge impact on your business too. Teams that collaborate are up to 20% more efficient2 and with people contributing to twice as many teams as they did five years ago3, it is no wonder that we are already shifting to work environments and setups designed to foster collaboration and social interactions (e.g. open offices). Regardless of size, pooling resources also helps businesses save time and money by improving efficiency and inspiring creativity. This helps decrease work stress, burnout and turnover, and promotes better work-life balance for your employees.
The business balancing act

This push-pull relationship between working together and telecommuting has set in motion a balancing act for businesses. As such, collaborative technology and mobile solutions that integrate well are more valuable than ever.

"SMBs are increasingly embracing digital transformation to take advantage of both the opportunities it presents, and the disruption it can mitigate," shared Shari Lava, IDC Research Director in SMB Markets. "Digitally determined SMBs, defined as those that are making investments in digital transformation-related technology, are almost twice as likely to report double-digit revenue growth versus their technology indifferent peers."4

Unfortunately, not all tools are made equal. If they are subpar or a bad match for the company's needs, collaboration tools may leave employees and clients feeling more frustrated than empowered, and impact productivity negatively.

There are many options out there—how do you know which tool will help your business work better? Here are some tips:


Remember the essentials

For technology to improve collaboration, there are plenty of considerations to ensure a productive and safe working environment such as fast internet connection and virtual private network. But two things are essential when selecting your workstation: better video options and crystal-clear audio technology.

Visuals are still the quickest and most effective way to communicate. Whether sharing your screen or connecting via video conference, the latest technology enables employees to communicate as quickly and naturally as if they were meeting face to face. For the productivity warrior whose schedules are often packed with meetings, a second display can aid in your multitasking as well.

Visuals aren't the only factors that determine seamless communication. To get the most out of collaboration efforts, it's essential to ensure all voices are audible. The most effective calls and virtual conferences rely on clear audio so every participant can be heard and understood, without the glitches or garbles of outdated audio technology. Noise-cancelling headphones can be a worthwhile addition to your new workspace too.

If your workstation hasn't been updated to the latest Microsoft Windows 10 yet, it's time to make the most of its workplace collaboration features to significantly increase your team's productivity and creativity. To begin with, Windows 10 is designed to work perfectly with the cloud-based productivity suite, Microsoft Office 365 (MS Word, PowerPoint, Excel etc.), while also offering other useful functionalities such as the annotation of web pages with notes and drawings on Microsoft Edge browser.


Ask the right questions

Knowing that visuals and audio are crucial, ask yourself these questions as you build collaboration solutions for your business. Every team is different, so ensuring the right technology fit for your people can make a world of difference.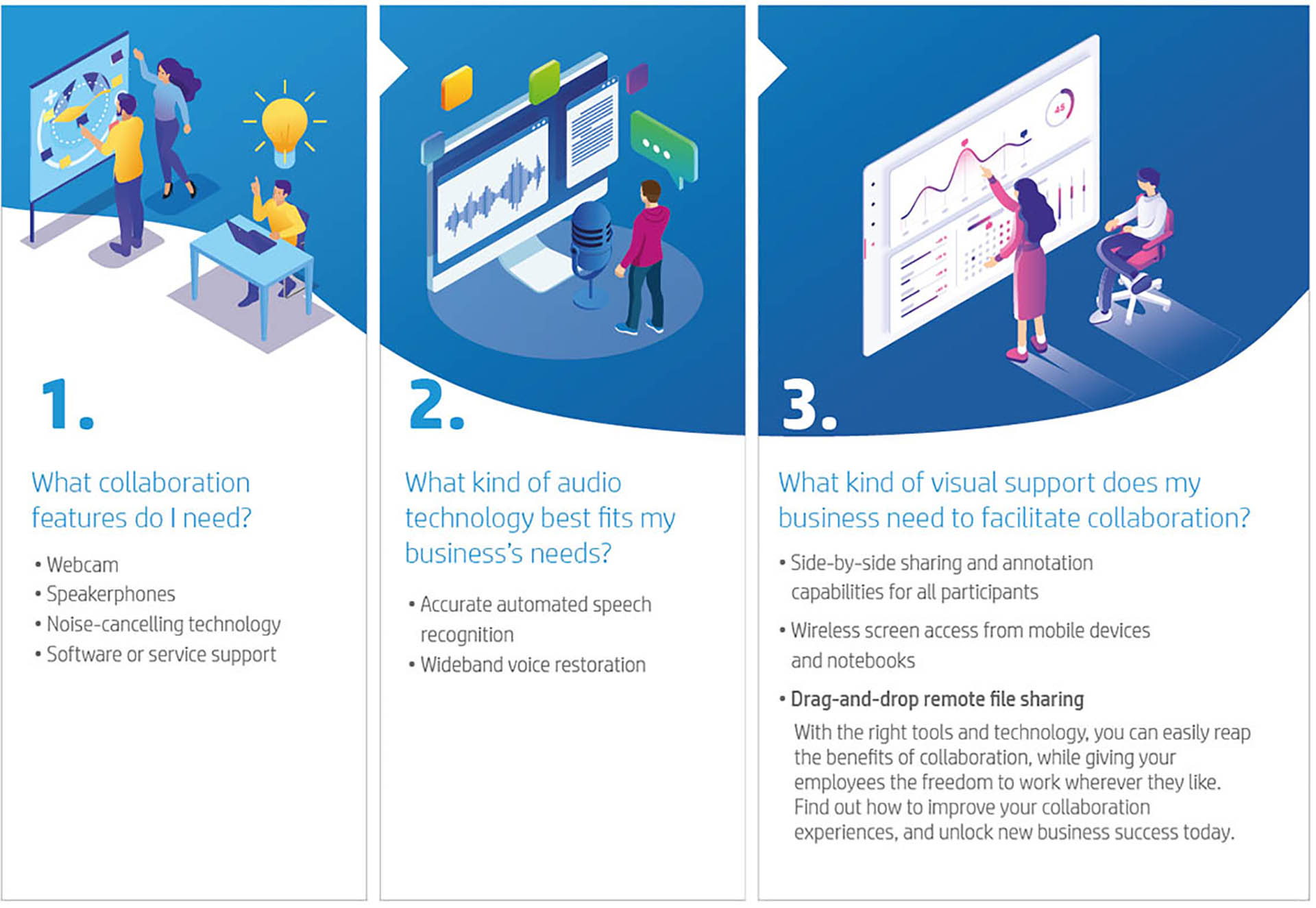 HP is now offering HP Sure Click Pro free of charge until September 30, 2020 to help businesses and individuals stay digitally safe when working remotely during the current crisis. HP Sure Click Pro is designed with advanced isolation technology to guard against embedded malware, ransomware, and viruses. Find out more here.


Brought to you by HP and Intel®
Ultrabook, Celeron, Celeron Inside, Core Inside, Intel, Intel Logo, Intel Atom, Intel Atom Inside, Intel Core, Intel Inside, Intel Inside Logo, Intel vPro, Intel Evo, Itanium, Itanium Inside, Pentium, Pentium Inside, vPro Inside, Xeon, Xeon Phi, Xeon Inside, Intel Agilex, Arria, Cyclone, Movidius, eASIC, Enpirion, Iris, MAX, Intel RealSense, Stratix, and Intel Optane are trademarks of Intel Corporation or its subsidiaries.
1 https://www.straitstimes.com/singapore/working-from-home-to-be-the-norm-for-most-even-after-circuit-breaker-ends-chan-chun-sing
2 https://oursocialtimes.com/social-collaboration-improves-team-efficiency-by-20-infographic/
3 https://www.microsoft.com/en-us/itshowcase/deploying-microsoft-teams-streamlines-collaboration-and-improves-teamwork
4 https://www.idc.com/getdoc.jsp?containerId=prUS46047320