iOrthotics finds a better way to match patients' feet, more quickly
Customer at a glance

Established in 2009 in Mackay, Queensland, Australia, iOrthotics develops custom-made orthotic devices for podiatrists. The company has embraced digital manufacturing processes and uses their capabilities to create orthotic solutions that offer unique advantages for podiatry clinics and their customers.
The Challenge
"The goals for any orthotic device are to support the foot, improve foot function, and correct alignment," says Podiatrist Ian Goodchild. "The traditional way to make them was using plaster of Paris casts, which is inaccurate and messy. Often the result was an orthotic that was almost unwearable. The industry needed a better solution."
"As a rapidly growing business, we needed to innovate our manufacturing process to keep up with demand," says Hartley. It was impractical to continue using subtractive milling, which could produce just 30 plastic devices per day.
Download the case study to learn how iOrthotics used 3D scanning–removing the need for a plaster of Paris mold–and how HP Multi Jet Fusion technology helped them meet their needs for strength, durability, and speed in their production of orthotics.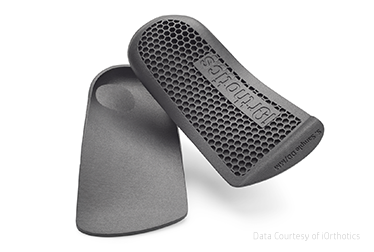 Download Now
Fill out the details here and receive a copy of the case study.