Are you ready to solve the printing challenges of hybrid work?
The list of things you have to manage in the era of hybrid work is daunting. Fortunately, you don't have to manage them all. See how HP Managed Print Services help IT turn the page to a print approach as agile, secure, and efficient as the new hybrid workplace demands.
• Free IT teams to put their expertise where it's most needed instead of managing printers.
• Make costs more predictable and eliminate unnecessary spending.
• Have the agility to be ready from anywhere with cloud-connected printing.
• Gain productivity through digitally integrated workows.
• Overcome security vulnerabilities and compliance risk with the world's most secure printing.1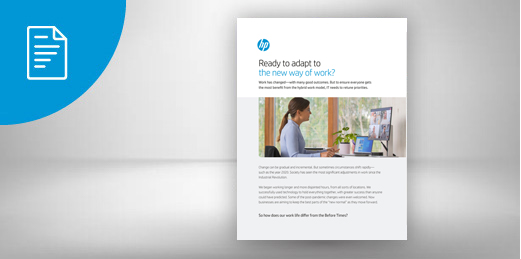 Ready to adapt to the new way of work?
The hybrid work model is the biggest shift since the Industrial Revolution. Consider these changing IT needs to help your organization succeed.
Read Article
1 "World's most secure printing" or "most resilient printers" claims include HP's most advanced embedded security features which are available on HP Enterprise and HP Managed devices with HP FutureSmart firmware 4.5 or above. The claim is based on HP review of 2021 published features of competitive in-class printers. Only HP offers a combination of security features to automatically detect, stop, and recover from attacks with a self-healing reboot, in alignment with NIST SP 800-193 guidelines for device cyber resiliency. For a list of compatible products, visit: hp.com/go/PrinterSecurityClaims For more information, visit: hp.com/go/PrinterSecurityClaims.