CORPORATE CYBERSECURITY REPORT
Securing the Hybrid Workplace in 2022 and Beyond
New Survey Finds Companies Are Turning Away from VPN in Favor of Zero Trust Architecture as Hybrid Workplaces Become the New Norm
When organizations abruptly shifted to remote work during the COVID-19 pandemic, they had to scale their network and security capabilities quickly. That meant snap decisions for many companies, deploying more of what they were already using, likely taking some shortcuts that left optimizing security and user experience for another day.
A new survey targeting IT decision makers polled more than 8,000 respondents across a range of industries about the security challenges that were uncovered as companies moved to remote work. This report discusses those challenges and how companies are planning to increase security as hybrid work models mature and become the norm.
Download this free 13-page report to learn about the priorities that will help CSOs and IT staff protect corporate assets and enable a secure, productive and reliable hybrid workplace.
Corporate Cybersecurity Report
DOWNLOAD IT NOW...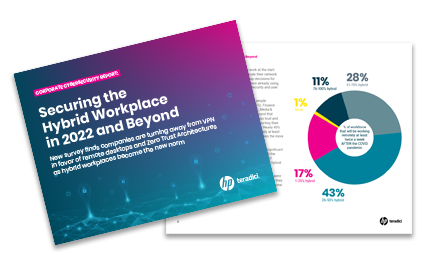 Corporate Cybersecurity:
By the Numbers
of respondents indicated their companies are concerned about the security of corporate data exposed via home-based devices
of respondents indicated their companies are concerned about the security of corporate data exposed via home-based devices
of respondents indicated their companies are concerned about the security of corporate data exposed via home-based devices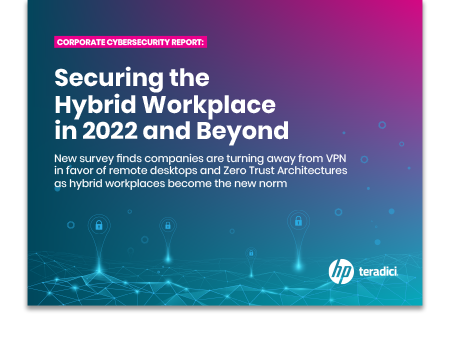 Companies Are Turning Away from VPN in Favor of Zero Trust Architecture as Hybrid Workplaces Become the New Norm
Download the report to find out:
The state of Zero Trust, VPN and Remote Desktop/DaaS adoption
Which industries are adopting hybrid work post-pandemic and to what degree
What companies are most concerned about when it comes to securing endpoints and corporate assets
The types of endpoint devices hybrid workers are using
What technologies companies are selecting to secure their hybrid infrastructure