CUSTOMER AT A GLANCE

EDSER develops and provides superior quality, custom-made orthotics to clinicians and patients around the world. With more than 20 years in the orthotics field, EDSER combines the roots of the industry with the latest innovations in design, production methods, and materials and was one of the first companies in the orthotics and prosthetics (O&P) space to embrace digital transformation.
Using their own software called EDSERScan, clinicians can manage patient information, 3D scans, and assessment tools. The software links to an online app called EDSERAPP that allows clinicians to prescribe orthotic devices to patients and perform real-time follow-ups of orders.
CHALLENGE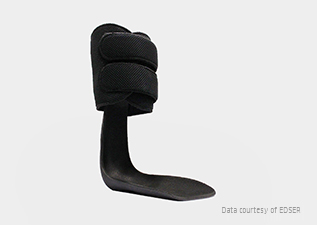 Team members at EDSER are constantly searching for new technologies to optimize workflow and improve their products. In the past, EDSER manufactured its devices using thermoforming and CAD-CAM solutions for milling to create custom-made orthotics and prosthetics.
"The [O&P] market is growing as professionals acknowledge the quality of central fabrication facilities and people become more aware of the benefits of orthotics for injury prevention and biomechanical enhancement," said Fernando Ferradeira, CPO of EDSER.
EDSER always saw potential in using additive manufacturing (AM) in the O&P industry: "Traditionally, O&P is a sector of custom-made devices, as if every device is a prototype," Ferradiera said. "However, the AM technologies and materials that can deliver parts with the mechanical properties needed for O&P are relatively few and very expensive."
A second drawback of transitioning from traditional manufacturing to additive manufacturing is the reluctance of O&P professionals to adapt to these production changes. But according to Ferradiera, EDSER can serve as a link to help providers adopt additive manufacturing as a valid and versatile manufacturing method by facilitating design and development of products, as well as offering manufacturing capability.
Complete the form to read the full case study and learn how EDSER used HP Multi Jet Fusion technology to reduce manual labor, reduce the need for product assembly, and increase manufacturing productivity for custom-made orthotic devices.