ActivArmor fashions customized orthotic devices with HP 3D Printing


Customer at a glance

ActivArmor's mission to revolutionize the medical casting and splinting market through digital customization is evidenced by the company's ability to design, test, and fit unique, individualized orthotic devices based on customers' specific needs. Based in Pueblo, Colorado, ActivArmor serves hospitals and clinics across the United States with digital casting and splinting by offering waterproof, breathable, and hygienic alternatives to traditional casting.
The challenge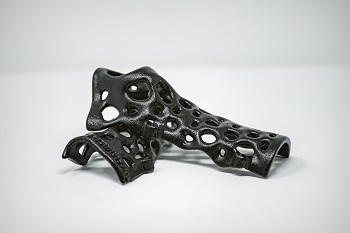 Since 2015, ActivArmor has been 3D printing in-house with fused deposition modeling (FDM) technology, which results in orthotic devices that require finishings like dips and sprays. But upon learning about HP Multi Jet Fusion technology with Avid Product Development, ActivArmor saw an opportunity to expand production beyond their in-house FDM printers, cut production time, and possibly eliminate the need for post-printing finishings.
To better serve patients who need devices tailored to the intricate details of their injuries, ActivArmor considers mass customization to be crucial in the future of healthcare.
"Mass customization is the future of medicine," said Diana Hall, President and Owner of ActivArmor. "With medical devices, there is no one-size-fits-all design. Patients want custom medical devices so they can improve their healing outcomes and experience."
Complete the form to access the full case study to learn how ActivArmor decreased development and manufacturing times to create breathable, customized, and 3D printed orthotic devices.
DOWNLOAD NOW

Fill out the details here and receive a copy of the case study.