HP MULTI JET FUSION LEADS TO LIGHTWEIGHT PART PRODUCTION
Barel develops and manufactures electronics for OEM customers within the markets for the international lighting and heating industry.
THE CHALLENGE
Barel's stopper for industrial awnings protects doors of commercial shops. The part was initially designed for CNC Machining using gray PVC. Any additional material removed from the original block resulted in an increased part cost.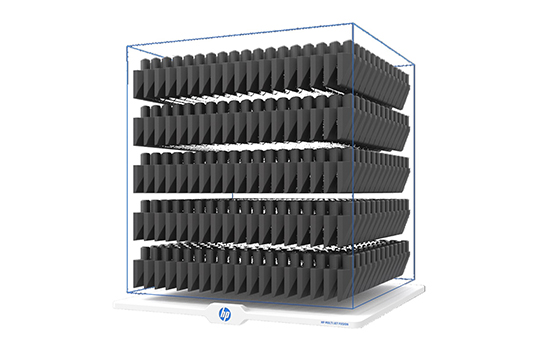 End of guide stopper production
INDUSTRY
Industrial
SECTOR
Machinery and Equipment
SIZES
X: 0.79 in / 2.0 cm
Y: 0.79 in / 2.0 cm
Z: 2.56 in / 6.5 cm
VOLUME
0.42 in3 / 6.90 cm3
MATERIAL
HP 3D High Reusability PA 12
POST-PROCESSING
Bead blasting
RESULTS
When production of the part transitioned from CNC Machining to HP Multi Jet Fusion technology, it was redesigned with a hollow interior, which allowed for a lighter weight, a lower cost, and the production of 238 parts per day.