FASTER MANUFACTURING PROCESS WITH HP MULTI JET FUSION TECHNOLOGY
Barel develops and manufactures electronics for OEM customers within the markets for the international lighting and heating industry.
THE CHALLENGE
Barel's pipe brace holds a pipe in a defined position by preloading the brace against the pipe. Originally produced using polyethylene PE-500 black, creating this part requires a machining process followed by a bending step, or angling of the fins to hold the pipe in its desired position.
Using the original material and design, the manufacturing process was delayed due to the required machining and bending operations, and the part did not function properly because the fins would prematurely return to their initial position.
RESULTS
HP Multi Jet Fusion technology successfully replaced the CNC Machining process for this part, resulting in:
INDUSTRY
Industrial
SECTOR
Machinery and equipment
MATERIAL
HP 3D High Reusability PA 12
POST-PROCESSING
Bead blasting
SIZES
X: 3.27 in / 8.3 cm
Y: 3.27 in / 8.3 cm
Z: 1.38 in / 3.5 cm
VOLUME
0.83 in3 / 13.8 cm3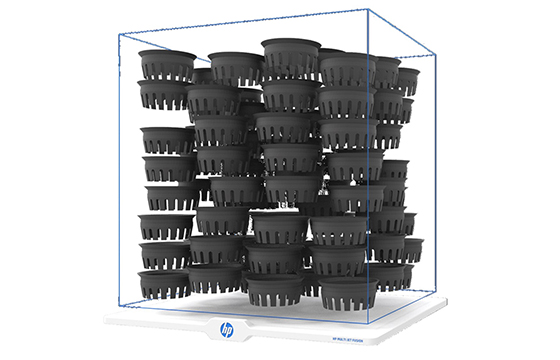 Pipe brace production
Easier production: When printed with HP Multi Jet Fusion technology, the original part design, including the required angle of the fins to initiate the preload, did not require additional steps.





Improved accuracy:The angle was adjusted to achieve the required preload with HP 3D HR PA 12 material.




Productivity: 134 parts per day.