More design freedom and faster time to market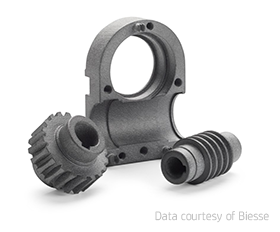 Customer at a glance

Established in Pesaro, Italy, Biesse offers modular solutions from the design of turnkey plants for large furniture manufacturers to individual automatic machines and workstations for small and medium enterprises.
The Challenge
"Within Biesse, we have a business unit that is fully dedicated to providing machines that enable edge banding," says the company's Head of Technical Office and Prototypes, Marco Mencarini. "They allow for the application of plastic or wood to the edges of furniture. As you can imagine, our machines must support a diverse set of assembly needs. To support them, we need to create a wide range of highly customized parts and tools."
Download the case study to learn how HP´s Multi Jet Fusion technology helps Biesse meet customer requirements more quickly and profitably.
ADDITIONAL RESOURCES

Streamlining machinery and production lines with HP Multi Jet Fusion 3D printing
(PDF 317 KB)

3D Applications for manufacturers of machinery and production line equipment
Download Now
Fill out the details here and receive a copy of the case study.