Customer at a glance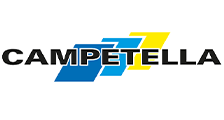 Campetella Robotic Center is an Italian company specialized in the production of industrial robots and automation systems. Since 1897, Campetella has been involved in producing technological machinery.Their core business is IML (In-Mold Labelling) equipment to insert labels directly into a mold to be melted into a container (food container, or pharma container, etc.).
Campetella produces both Cartesian and cylindrical coordinate robots, and a variety of components that are used to make the systems, and they integrate anthropomorphic robots where necessary. It was natural to consider additive manufacturing as a new technology to improve and evolve further for a company with such a strong innovative nature.
They have an internal area that deals with the production of parts, workshops, machining centers, numerical control lathes, and much more. Hence, the first areas on which Campetella Robotic Center chose to test the new technology and increase their know-how, were some test pieces and prototypes intended for internal use. Many of the parts were suitable for additive manufacturing, and after a short time, the company decided to abandon outsourcing and purchase a small fleet of 3D printers in-house.