Customer at a glance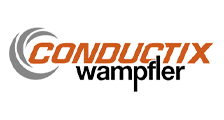 Conductix Wampfler is a business unit of the multinational Delachaux Group, founded in 1902 and active today with almost 4,000 employees in over 40 countries, with around 30 commercial offices and 12 factories and centers of excellence. The Group operates successfully in the markets for material handling, automation, mass transport, and machinery for the production of electrical and fiber-optic cables.
To maintain leadership in the market of data and energy transmission between moving components, constant innovation is necessary; this is one of the guiding principles of Conductix.
"At a certain point in our journey," says Breviario, "we realized that we were starting to lose commercial opportunities due to a volume/cost ratio that was no longer sustainable. We have therefore chosen 3D printing to make small production runs more flexible and cheaper." By creating an accurate business case, Conductix experiences the advantages of powder bed technology, using 3D printing to create not only prototypes but also the components that were previously produced by third parties with mechanical processing (milling, turning, and CNC)