HP MULTI JET FUSION TECHNOLOGY FACILITATES PART ASSEMBLY
HP Inc. creates life-changing technology solutions for people and companies all over the world. Through our portfolio of printers, PCs, mobile devices, solutions, and services, we engineer experiences that amaze.
THE CHALLENGE
HP Multi Jet Fusion (MJF) technology is helping HP streamline processes throughout its supply chain and replace traditional manufacturing methods. One example is a tool in HP's printhead manufacturing line—a drill extraction shoe.
The nozzles of HP printheads are manufactured with a laser-cutting process, which uses water to prevent overheating of the laser and the silicon plates. The drill extraction shoe is used during cutting to remove the silicon sludge and water that continuously appear, enabling a more efficient laser-drilling process.
INDUSTRY
Industrial
SECTOR
Machinery and equipment
MATERIAL
HP 3D High Reusability PA 12
TOTAL COST PER PART
CNC Machined: $450
HP MJF: $18
Cost reduction: 95%
WEIGHT
CNC Machined: 575 grams
HP MJF: 52 grams
Weight reduction: 90%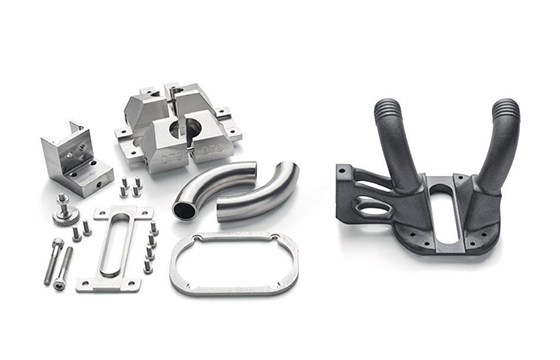 CNC Machine assembly vs Multi Jet Fusion topology optimised part
As shown in the image, the original CNC Machined tool (on the left) is made of seven sub-parts, most of which are mechanized from an aluminum block. The HP MJF redesigned part (as shown on the right in the image) has been consolidated into a single part.
RESULTS
Using HP Multi Jet Fusion technology to produce this part helped enable:
The watertight properties required for manufacturing aids that contain pressurized fluids, without needing to post-process or coat the parts.




The optimization of the design to reduce turbulence in the part using finite element analysis. The shape of the end of the pipe has been modified to optimize flow during the section transition.




Cost reduction of 95% compared with the original part.




Weight reduction of 90% compared with the original part due to topology optimization and material reduction.




Lead-time reduction: CNC Machining required three to five days of processing, while HP MJF completes the same task in 24 hours.




Assembly reduction by consolidating seven sub-parts into one single part.