LEADING A NEW, GROWING MARKET WITH HP MULTI JET FUSION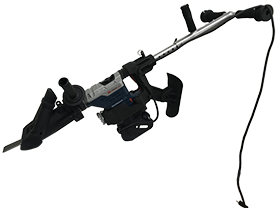 Customer at a glance

DustRam LLC is a manufacturing company that designs and builds rugged dust-free tile removal equipment for the contracting and flooring industry. DustRam's mission is to help contractors and flooring professionals safely and quickly remove paint, adhesive, tile, thinset, stone, brick, and other dusty material from different types of subfloors. In the process, DustRam has created a completely new consumer-driven market with immense opportunities for growth.
The Challenge
Components of various DustRam products are designed to work together at specific times to capture dust and control debris during the removal of tile and other flooring. Until HP Multi Jet Fusion (MJF) technology, there was no economically feasible way to build many of these parts, such as the DustRam, ExoRam, and SkiRam for Bosch 11264EVS Chipping hammer.
To learn more about how DustRam used HP MJF technology to design and build their parts, complete the form to access the full case study.
Download Now
Fill out the details here and receive a copy of the case study.