HP MULTI JET FUSION HELPS AUTOMOTIVE INDUSTRY SAVE COSTS
Eurecat has become a leading partner of Catalan technology companies by responding to needs for innovation and driving companies' competitive edge.
Eurecat has developed advanced and clean fabrication technologies and production processes that enable manufacturers to improve their productivity (production speed, precision in operating, and material and energy consumption) and the management of waste and pollution from a life-cycle perspective.
RESULTS
To manufacture extrusion blow molding (EBM) devices for automotive air ducts, Eurecat turned to 3D printing powered by HP Multi Jet Fusion (MJF) technology, which resulted in:
INDUSTRY
Industrial
SECTOR
Molds
MOLD MATERIAL
HP 3D High Reusability1 PA 12
AIR DUCT MATERIAL
Tested with: PP, PE, & TPE
POST-PROCESSING
Bead blasting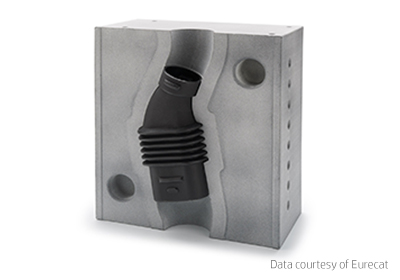 HP MJF–produced mold cavities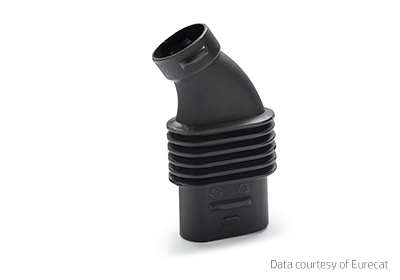 Final automotive air duct
Increased productivity: HP MJF allows for the simultaneous printing of both cavities and different mold geometries to test. The time it takes to traditionally manufacture these parts is two weeks, while HP MJF shortens the production time to two days.




Cost reduction: Compared with metallic molds made with CNC Machining, the molds made with HP MJF resulted in a cost decrease of 46%.




1. Based on using recommended packing densities and compared to selective laser sintering (SLS) technology, offers excellent reusability without sacrificing mechanical performance. Tested according to ASTM D638, ASTM D256, ASTM D790, and ASTM D648 and using a 3D scanner for dimensional accuracy. Testing monitored using statistical process controls. HP Jet Fusion 3D Printing Solutions using HP 3D High Reusability PA 12 provide up to 80% post-production surplus powder Reusability, producing functional parts batch after batch. For testing, material is aged in real printing conditions and powder is tracked by generations (worst case for reusability). Parts are then made from each generation and tested for mechanical properties and accuracy.