Accelerating production, improving productivity
Customer at a glance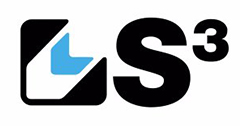 FICEP Steel Surface Systems (S3) is a high-tech engineering and research & development company that operates worldwide within the FICEP group. It manufactures machines and develops production management software for structural steel fabricators.
FICEP S3 also provides installation and maintenance services for steel fabricating equipment. In addition, it provides after-sales services and spare parts, including 3D-printed parts.
The Challenge
The daVINCI Automatic Paint Line primes and paints structural steel. In its development, FICEP S3 faced several constraints and decided to see if they could be resolved using HP's Jet Fusion 3D printing solution.
"We spent a lot of time trying to figure out how to make some of the parts", says FICEP S3 CEO, Nuno Neves. "It was extremely complicated to machine some of them due to limitations with current machining technology. It just wouldn't work. In other cases, we were challenged with the limitations of injection molding." In some cases, the parts used in the Automatic Paint Line were too complex for machining. In others, the weight of producing them in metal put too much stress on the rest of the system. He adds, "Around that time, I was invited to see HP's 3D printing technology, and I immediately wondered if it could help solve our problems."
Download the case study to learn how HP 3D printing technology helped FICEP S3 move beyond the limitations of other technologies.
ADDITIONAL RESOURCES

Streamlining machinery and production lines with HP Multi Jet Fusion 3D printing
(PDF 317 KB)

3D Applications for manufacturers of machinery and production line equipment
Download Now
Fill out the details here and receive a copy of the case study.