MECHATRONIC LEVERAGES HP'S 3D PRINTING TECHNOLOGY TO BUILD BETTER PARTS AT A LOWER COST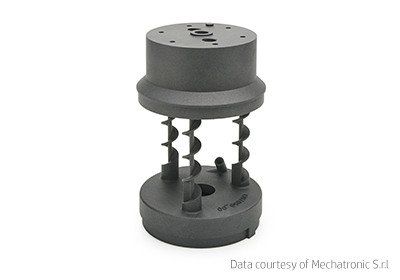 Customer at a glance

Mechatronic S.r.l. is an industrial automation company based in Italy that provides customized machines for industrial painting plants. With more than 20 years of experience in multiple markets, Mechatronic specializes in innovative applications with a focus on adapting products to customers' requests.
The Challenge
Mechatronic produces the world's only industrial painting machine that automatically sieves the painting powder and cleans the basket in which the powder is stored. The part must be very resistant to oscillations; must be able to absorb vibrations without transmitting them to the basket and, therefore, to the whole machine; and must feature plain shapes to facilitate the cleaning process (removal of painting powder) and reduce downtime of the machine. Previously, the part was made from plastic, which was not only expensive, but the material also made the part prone to failure.

In another instance, the flange that surrounds Mechatronic's touchscreen control panel was originally manufactured using CNC Machining, then modified by hand and assembled with screws. Over time, Mechatronic's customers became dissatisfied with the control panel's appearance.
Download the case study to learn how HP Multi Jet Fusion technology has helped Mechatronic develop better-performing parts with more aesthetic appeal, a lighter weight, and at a lower price.
Download Now
Fill out the details here and receive a copy of the case study.