Ubi Maior produces lightweight, customized parts with complex geometries for boats and yachts with HP Multi Jet Fusion technology


Customer at a glance

Ubi Maior Italia ("Ubi Maior") is a sailing equipment company that designs and produces first-class equipment using the highest grade of structural materials to ensure easy management and optimal performance of boats. Ubi Maior's highly skilled professionals from the Production Division as well as the Engineering and Design Division work in close collaboration to create a wide range of custom-made products for their customers.
All Ubi Maior parts are ISO 9001–certified for quality, are tested in Ubi Maior's plant by external certified laboratories, and endure sea trials. Their sail, block, and deck hardware lines include standard pieces and parts as well as customized options to meet the unique needs of customers' boats.
The challenge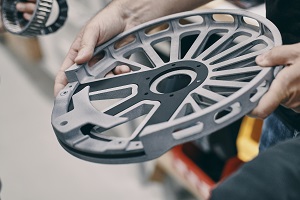 Data courtesy of Ubi Maior Italia
Parts for high-performing racing sailboats must be lightweight and highly durable to tolerate the harsh environments that boats endure. The roller bearing blocks—part of Ubi Maior's "Regatta (RT)" line—support high loads and are used to trim sails and tension the mast-supporting cables. These blocks, which are typically made from titanium or steel, must be able to withstand up to 13 tons by absorbing direct and side forces to minimize rotation friction.
Ubi Maior had previously used CNC milling to produce parts for these assemblies and had been operating their machines at full capacity. Some features and shapes of the newer parts were impossible to make using CNC due to the limited capacity of milling tools to shape complex geometries and create holes. Therefore, Ubi Maior looked for other ways to produce these parts.
"In 2019, we decided to use 3D printing technology to expand our production and to optimize the work of our CNC milling," said Raffaele Di Russo, Corporate Brand Manager at Ubi Maior. "In studying the various technologies on the market, we realized that HP Multi Jet Fusion (MJF) technology was the right one for us."
Complete the form to download the case study and learn how Ubi Maior used HP 3D Printing to achieve quality, functional, custom prototypes and final parts that can withstand nautical environments.
DOWNLOAD NOW

Fill out the details here and receive a copy of the case study.