HP 3D Printing enables Van Raam to achieve efficient short-run production of bicycle parts


Customer at a glance

For nearly a century, Van Raam has produced a wide range of bicycles. The product range includes tricycles, side-by-side tandems, scooter bikes, wheelchair bikes, tandem bikes, low step-through bikes, and walking aids. Van Raam's Dutch-quality special-needs bicycles are designed for adults and children with physical disabilities; for customers who want more stability and security while cycling; or for those who would rather ride along as passengers rather than pedal on their own.
Each bicycle is manufactured using innovative, quality, and sustainable techniques and is designed based on the customer's individual needs and preferences. Customers can browse bicycles on Van Raam's website and design their own with various structure, color, and accessory options.
The challenge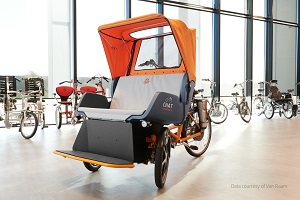 Because each of Van Raam's bicycles is designed and manufactured based on the unique needs of customers, each type is produced in relatively low quantities, from a few dozen to a few thousand per year, depending on demand. These production volumes are not high enough for Van Raam to justify injection molding as a production process considering the time and cost it takes to make each mold. This conundrum led Van Raam to explore 3D printing technologies instead.
To learn how Van Raam achieved low-volume production of final parts for their bicycles while decreasing production time and costs thanks to 3D printing with HP Multi Jet Fusion technology, complete the form to download the full case study.
DOWNLOAD NOW

Fill out the details here and receive a copy of the case study.